Now is the Time!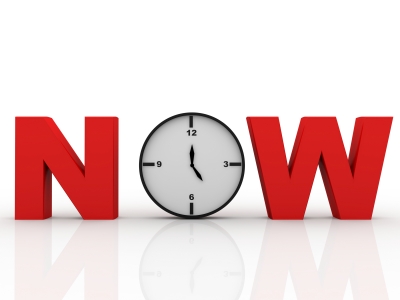 As a mom, have you ever asked your child to do something, but sensed a little hesitation on their part? With raised eyebrows you add a stronger tone of voice...a verbal warning that says they best be gettin' to it "NOW!"
Or maybe you're an officer breaking up a fight only to tell each person "You over there...you over here...NOW!"
The word "now" has to do with an immediate response. It is virtually saying, "Time is of the essence here. I need a reaction out of you immediately!"
Years ago when our daughter was around 4 years of age, I remember a particular morning I had asked her numerous times to get dressed and ready for school. After a continual list of excuses and hem hawing around, I let her know that she would comply
now
or reap the consequences. A few minutes later, she was still not dressed and I was ready to walk out the door. Without warning, I grabbed her clothes and scooped her up. "Okay then, you will go to school in your pajamas." Tears and pleadings could be heard from the backseat of our minivan. I was the most horrible mother of all time though I had given her ample warning. Eventually I did give her the clothes to change into (and she did change rather quickly), but reminded her that inaction on her part reaped consequences. In this case, it was embarrassment over the thought of walking into class still wearing her pink Barbi nightgown.
In Hebrews 3, verse 7 and 8, the writer warned, "
Today
if you hear his voice,
do not harden your hearts
as you did in the rebellion, during the time of testing in the desert..."
2 Corinthians 6:2b says, "I tell you,
now
is the time of God's favor,
now
is the day of salvation."
The words "Today" and "now" go hand in hand in these verses. These scriptures point to the urgency of God's divine invitation to follow Him.
Not to be a Debbie Downer, but our world is not getting any better. Just this past week I have read about earthquake warnings, tornado destruction, unspeakable evil against men, women and children, callous slaughter of the unborn, oppressive governments, unquenchable hatred, violence against our law enforcement officers, marital disharmony, on and on, yet so many are oblivious to the warning signs.
As a friend of mine always says, "We must have a Code3 (lights/sirens) sense of urgency." None of us are guaranteed another moment...another day. If we don't put our faith and trust in Jesus
NOW
, there will be unpleasant consequences for us in the life after.
I want to urge you, friends, to be like the jailer in the book of Acts that upon witnessing the power of God within a jail cell said, "Sirs, what must I do to be saved? They (Paul and Silas) replied, 'Believe in the Lord Jesus, and you will be saved - you and your household." Then "at that hour of the night the jailer took them and washed their wounds; then
immediately
he and all his family were baptized." Acts 16:30-31, 33
Are you acting upon His nudging today or are you procrastinating? Why not step out in faith today?
Now
is the time!
Blessings,
Kristi